5 Downtown Roseville Highlights from 2019
in
Information, Businesses, & Events
---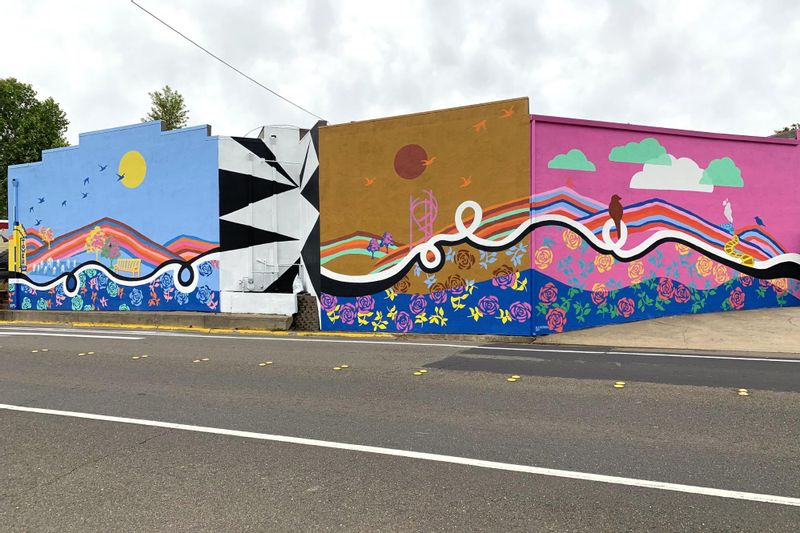 2019 was a big year in Downtown Roseville, with new businesses opening up shop, local art popping up around Vernon Street, and award-winning annual events bringing our community together like never before. It's been a year of growth and expansion for our downtown, and we're reminded more than ever how incredible this community we call home truly is. As 2019 comes to a close, we've rounded up a few highlights from this year...
Painting Downtown Roseville with five original works of art by five local artists, the Roseville Mural Project was an incredible community effort. Completed in Spring, the end result was a true testament to this amazing city, its history, and the community we are so happy to be a part of. If you haven't already, we urge you to discover these exceptional works of art by exploring the project on Instagram (#RosevilleMuralProject), or -- better yet -- visit these spectacular new murals located around our downtown!
Roseville Bridges & Trail Project 
This Summer, the Downtown Bridges & Trail project created beautiful spaces and brought more connectivity to Downtown Roseville! Thanks to this project, there is now a continuous six-mile long trail from Sierra College Boulevard through downtown to Darling Way. The project also saw the refurbishment and rotation of the historic Rube Nelson Ice House Bridge which connected the trail across Dry Creek, added the Taylor Street pedestrian bridge connecting Royer Park to the Downtown Library, as well as a new downtown pedestrian bridge providing a direct connection between Royer Park and Vernon Street Town Square. Additionally, 36 more trees were planted in downtown Roseville! 
Upon completion, the community came out to help us Celebrate Downtown with a full day of fun, complete with a morning bike ride around the newly-opened bridges and trail, the official Grand Opening celebration, our annual Family Fest, an old fashioned carnival, fire station open house, and live music! With our community growing more and more each year, this project helped bring greater accessibility and connectivity to Downtown Roseville!
Roseville's Downtown Tuesday Nights
Roseville Downtown Tuesday Nights (our favorite way to spend Tuesday summer nights) was named Best Annual Event in the area! A big thank you to our community and all those who voted for Roseville Downtown Tuesday Nights in Style Mag's Best of 2019 Readers Choice Awards -- we already can't wait for all the fun in store for next Summer!
Roseville Alley Clean Up Project
On a crisp Autumn weekend, Scouts from local Troop 828 showed their support for our neighborhood by dedicating their Saturday to helping clean up the alleys and streets around downtown Roseville! This was no small task, and their hard work and dedication further illustrate our community's positive influence on Downtown Roseville.
New Businesses
From new spots to shop for locally-made goods and vintage vinyl records, to the most revolutionary music education in the world; a place to taste local wine, to one for enjoying local beer while watching the game; a co-working space offering a new way to work, to a gym offering so much more than your traditional gym… we welcomed several new businesses to the district in 2019!


A collection of one-of-a-kind art, furniture, and decor, they stock local artwork and offer custom and restored vintage pieces you won't find anywhere else!
"Your one-stop-shop for hard to find music and collectibles" this is your go-to for new and used vinyl records, 45s, CDs, cassette tapes, comic books, band T-Shirts, memorabilia, DVDs, and more!
Boasting indoor and outdoor seating, a menu of local craft beer, signature cocktails, and good food, this is a great spot to catch the game or spend time with friends and family.
Bringing locally made wine to Downtown Roseville, you now have a spot to enjoy some good vino and good company at their tasting room on Vernon Street!
The most revolutionary music school in the world has landed in downtown Roseville! Offering one-on-one lessons and group practice, experienced musicians inspire students to fulfill their musical dreams.
A community approach to shopping small, this co-op shop features goods from 20+ local vendors and hosts pop-up shops and "Meet the Maker" events throughout the year!
A new way to work in Downtown Roseville! This co-working space offers private and shared offices to freelancers, remote workers, and anyone looking for a community-driven space to get some work done and enjoy free coffee.
Bringing more than a decade of expertise, Winks Fitness is all about health, and offers customized training programs, personal training, small group personal training, meal planning, conditioning, bootcamps, and more!
Root of Happiness (coming soon!)
A new social scene coming soon to Downtown Roseville promises relaxing beverages, delicious small bites, community, and an introduction to 3,000 years of Kava Kava culture and tradition. 
Lucas & Co. (opened their second location in Downtown Roseville!)
Last year they established their first location on Grant Street, and this year they opened a second location on Vernon Street! In addition to being a full-service salon, this team of hair stylists, makeup artists, estheticians, and massage therapists offer a unique salon experience in an inspiring space.
With so much to be thankful for this year and a great deal to look forward to in the coming year, we express our sincerest appreciation for you, your support, and the community you've created and continue building with us. You've shown up in a big way this year, by joining us in celebrating the big moments, and showing your support every day for the small businesses who make our downtown so wonderful… We cannot wait for all that's in store for 2020!