Dine Al Fresco in Downtown Roseville
in
Information, Businesses, & Events
---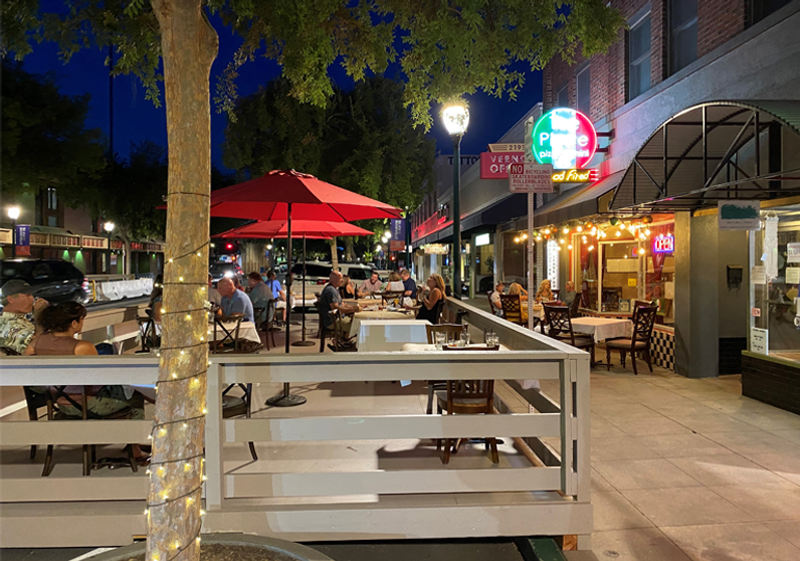 Enjoy delicious food and drink al fresco in Downtown Roseville!


Though recent months have passed with a haze of uncertainty and a series of moving targets, our downtown businesses have endured a great deal this year. Yet what has remained constant through it all has been the support system our City and community have built up around them. Most recently, this took the form of decking built along Vernon Street, a project that came to fruition out of our downtown restaurants' need for more space to accommodate more patrons who continue to show up to help support this community of small businesses while enjoying good food and drink in our downtown.


If you've been downtown recently, you'll have noticed the new, freshly-built decks. With the support of the City and the Downtown Roseville Partnership, downtown restaurants have gotten brand new 28- to 40-foot decks installed out front in an effort to help increase outdoor dining capacity and safely accommodate and serve more guests. This means that, in addition to supporting our small, locally-owned businesses, now you are able to enjoy more al fresco dining at your favorite restaurants in our quaint downtown! 


With more space to spread out, there's more opportunity for you to snag a table to grab a midday work lunch, enjoy dinner with your family, or catch up with a friend over coffee. Make a day of it and hit happy hour at your favorite downtown restaurants then stroll around downtown and stop into the shops that are open and excited to welcome you in!


A major thank you to the City for their support of our local downtown businesses. A thank you to the downtown businesses themselves for continuing to shift, pivot, and exhibit incredible resilience during this trying time in order to keep serving the community. And of course, thank you to everyone who has shared words of support about this project as well as those who have already come downtown to enjoy the new outdoor dining spaces. Your words, patronage, and continued support of our downtown are seen, heard, and greatly appreciated. We thank you most sincerely for continually reminding us how incredible this community we call home truly is.


Check in with your favorite restaurants to confirm their hours or to book a reservation (where available)!


Downtown Roseville enewsletter sign-up
Photo Source:
City of Roseville