Love is in the Air in Downtown Roseville for Valentine's Day
in
Information, Businesses, & Events
---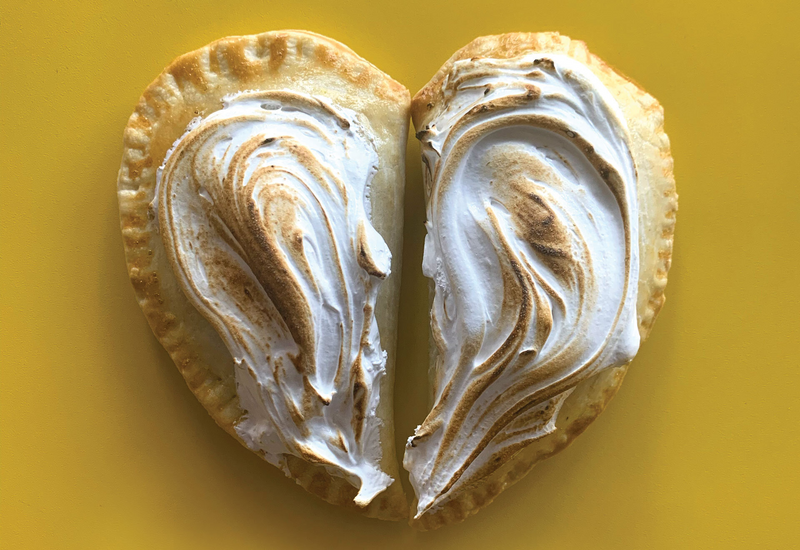 Share this sweet pocket pie with someone you love // A PART Café 
Ah, it's February. And you know what this means...Valentine's Day! Popular belief is that Valentine's Day celebrates romantic love between two people. However, the holiday actually includes love for your family and friends, even yourself. Allow us to tell you how you can fulfill all of your Valentine's Day wishes in Downtown Roseville! 
FRESH FLORALS 


Barlett Flowers & Gifts | 226 Vernon Street  
Located in the heart of Downtown, Barlett has been around for over 30 years as a premiere Roseville florist. They offer the freshest cuts and have a wonderful selection of blooms that will sweep your lucky someone off their feet! Why not top off a beautiful bouquet with a charming gift? Plus, you can now order online for local delivery or pickup! 
INSPIRED GIFTS


Master Jewelers | 239 Vernon Street 
Not many things in this world can compare to a stunning piece of jewelry to show someone they are special. As a custom jewelry designer and manufacturer, Master Jewelers offers unique pieces of jewelry in this shop. For the speediest service, Master Jewelers has a goldsmith/diamond setter on site.  


Terra Cottage Collective | 426 Vernon Street 
This shop sells a collection of on-trend home décor and women's fashion and accessories. They are currently stocking items for Spring (which, by the way, is peeping around the corner!)  


Audacity | 230 Vernon Street 
Audacity is the place to go to find a gift for someone who doesn't shy away from color. Get your loved one a present they won't stop looking at! 


Threads Clothing Exchange | 223 Vernon Street 
Threads sells a great selection of pre-loved clothing and accessories at reasonable prices. For the one who loves vintage, there's a good chance you'll find a great piece to take home here! 


Funky Zone Tobacco Shop | 130 Vernon Street 
This smoke shop sells tobacco products, vapes, and more. If your significant other is into this lifestyle, then look no further than Funky Zone! 


The Strum Shop | 209 Vernon Street 
For musicians or musicians-to-be, the Strum Shop sells a variety of instruments and accessories. It's a great place to shop for thoughtful gifts for people who play music.  
CHECK OUT ALL OF OUR DOWNTOWN ROSEVILLE SHOPS! >>  
BLISSFUL TREATMENTS


Unwind in Peace | 534 Oak Street 
Give the gift of relaxation to yourself or to someone you love. Licensed massage therapist Jamie has received rave reviews for her expertise and calming demeanor.  


Body & Soul Therapies | 237 Vernon Street 
With over 25 years of experience, Kim Silver will help stressed individuals reach a more peaceful and balanced state of mind. She promotes physical and spiritual healing through therapeutic massage and the Jin Shin Jyutsu technique.  


Vernon Nails | 227 Vernon Street 
Gift yourself a V-Day mani and pedi (and a full set of long lashes!) They are closed on Sundays (unless you call them about the possibility of a special appointment), so book early. 


Lucas & Co. | 22 South Grant Street & 246 Vernon Street (2 locations) 
Put your best face forward on Valentine's Day. Refresh and revive your hair or go for a completely new look to surprise your date. This full-service salon also does lashes, makeup, and skincare treatments.  
SEE ALL DOWNTOWN ROSEVILLE SERVICES >> 
ROMANTIC DINNER FOR TWO


Randy Peters Catering | 105 Vernon Street 
Set up a romantic candlelight dinner at home with the help of food to-go from Randy Peters! They are offering a Valentine's Day special menu that includes scrumptious dishes such as fire roasted beef tenderloin and seabass in a lemon crème sauce.  


105 Noshery | 105 Vernon Street 
Available for dine-in or to-go, 105 Noshery's special Valentine's Day menu includes juicy scallops, fresh oysters, and prime porterhouse steaks in a whiskey sauce.  


A PART Café | 217 Vernon Street 
Aside from their regular menu, A PART Café is offering an adorable (and delicious) heart-shaped pastry for all you lovers out there. Preorder for Valentine's Day weekend pickup.  


SEE ALL DOWNTOWN ROSEVILLE RESTAURANTS >> 
Visit our full directory to see a full list of services and businesses in Downtown Roseville.  

Downtown Roseville enewsletter sign-up