Support Women-Owned Small Businesses in Downtown Roseville 
in
Information, Businesses, & Events
---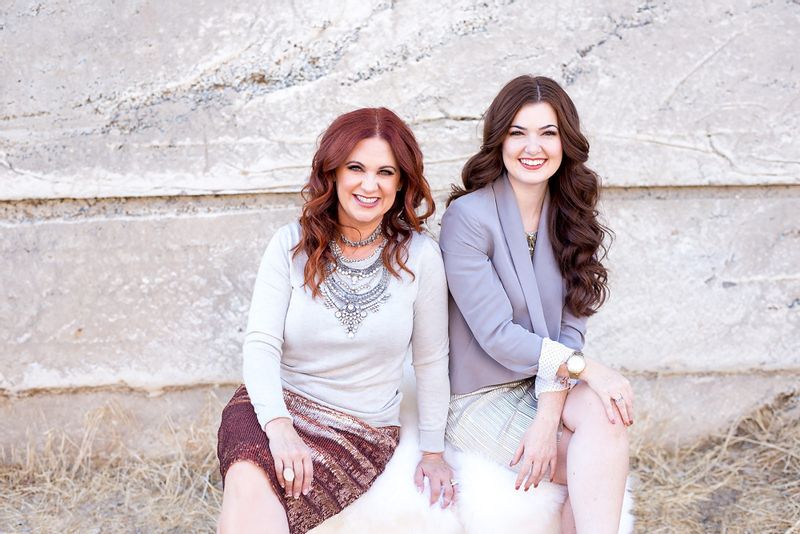 Interior designer Tami Teel with her assistant, Amber // Tami Teel Designs 

March is Women's History Month. This month recognizes the accomplishments of women throughout history and highlights the achievements of women today. It is a time to uplift and empower the women around you and help them reach their goals. Doctors, scientists, artists, chefs, entrepreneurs, and athletes—you name it, she is doing it! 
Promote women close to home. Many Downtown Roseville businesses are woman-owned and operated. Here are some featured women-owned Downtown Roseville businesses you can support! 


Randy Peters Catering/105 Noshery | 105 Vernon Street 
Owned by Downtown Roseville Partnership's current vice president, Lisa Peters, both establishments (which are in the same building, adjacent to each other) serve good food to delight the senses. Randy Peters currently offers packaged meals to-go while 105 Noshery is kicking up the festivities with live music and indoor dining.  


Sparrow 5 | 213 Vernon Street 
Reminiscent of what New York City's SoHo once was, Marsha Taylor's Sparrow 5 is an eclectic space where artists gather to create. It features artwork from more than 75 Northern California artists who work with a variety of media from acrylic paint to found materials. Additionally, the community can get involved by taking art classes which allow them to take their unique creations home! 


Winks Fitness | 501 Vernon Street 
As a fitness and life coach, Jessica Winkelhausen has been uplifting and empowering women through physical exercise and verbal encouragement for many years. She's also co-founder of Sisterhood Collective, an organization for women to share thoughts and to offer support to one other. 


Tami Teel Designs | 224 Vernon Street #203 
Interior design has been in Tami Teel's blood since childhood. Today, she manifests her passion for interior design by creating inviting and inspiring spaces for her clients. She has a great deal of experience designing interiors for both businesses and residences. Her work was also featured on HGTV's House Crashers and Yard Crashers! 


Body & Soul Therapies | 237 Vernon Street 
Let Kim Silver help clear your mind so you can accomplish amazing things. She is a therapist with over 25 years of bodywork experience who specializes in mental, emotional, and/or physical healing needs. She can provide massage services to ease physical pain, which in turn, will benefit your mental health.  


East West Acupuncture | 534 Oak Street 
Roxanne Alee hails from generations of herbalists and homeopathic consultants. What makes her stand out is that she is not only an acupuncturist, but also a registered nurse. Therefore, she is trained in both Western and Chinese medicine. She uses this combined knowledge to bring impressive results to patients.  


Unwind in Peace | 534 Oak Street (inside East West Acupuncture) 
As a working mom, Jamie Cruice knows first-hand how important it is to set aside some dedicated time to relax and unwind. She is truly passionate about helping people de-stress so that they can live their best lives. Pregnant women should try the prenatal massage which helps ease pain and discomfort brought on by pregnancy.  


Lucas & Co. | 22 South Grant Street & 246 Vernon Street (2 locations) 
Analise Lucas has been styling hair in Roseville since 2010. She had a dream of owning her own salon, so in 2018, Lucas & Co. was born. This salon is made up of an all-female team of talented hair stylists, makeup artists, and estheticians who will make sure you look gorgeous when you leave the salon! 


Honey Girl Glow | 501 Vernon Street (inside Winks Fitness) 
Located inside Winks Fitness, owner Christine will give you the perfect sunless tan! Christine is passionate about offering spray tanning as a healthy alternative to traditional tanning. She has received rave reviews about her professionalism and expertise! 


Jillibreez Salon  | 415 Oak Street 
This salon is co-owned by a group of female stylists and cosmetologists who provide hair and skincare services. Laura, Jilliann, Jessica, and Bree have many years of experience under their belts. They keep up with the latest trends to assist their clients in putting their best faces forward.  


Tumbleweed & Company | 517 Vernon Street 
Run by a group of women with an affinity for antiques, Tumbleweed & Company is a treasure trove of old objects with lots of history attached to it. From trinkets to furniture, they have a large warehouse of fun things to dig through. If you are looking for authentic vintage items, then look no further than Tumbleweed & Company!  
Elevate Public Relations & Marketing | 224 Vernon Street #201 
Founded by Mary Towne and currently composed of an all-female team, this public relations and design firm has been helping clients promote their businesses since 2009. With their winning attitude, they serve non-profits, community organizations, and small businesses throughout California. Their services include public relations, social media management, graphic design, web design, content development, and more!  
Visit our full directory to see a full list of services and businesses in Downtown Roseville.  

Downtown Roseville enewsletter sign-up