Downtown Roseville Public Safety Commitment: Roseville Police Department
in
Information, Businesses, & Events
---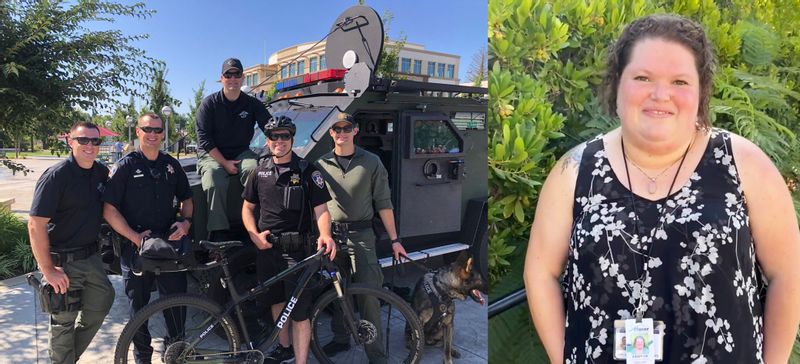 Last month, we introduced you to our day porters and security officers in Part I of our "Downtown Roseville Safety & Security" series. This is Part II and in this article, we will elaborate on the Roseville Police Department and what they are doing to keep Downtown Roseville safe.  


The Roseville Police Department's mission is to "safeguard our community; protecting life and property; reducing crime; and enforcing the law impartially." If a security guard patrolling the Downtown area is in need of support, they will call the Roseville police for help. One of the most prominent challenges they work with in the Downtown area is mitigating the homeless population.  


Last year, the Roseville Police Department welcomed Kasey Lix into their Social Services Unit as a homeless outreach advocate to help combat homelessness. This new outreach position was jointly funded by Placer County Health & Human Services, City of Roseville, and Downtown Roseville Partnership in response to the growing quality of life needs in the area. Kasey's education and background in psychology and counseling as well as years of experience in the behavioral health and substance abuse fields make her a valuable asset to the task force.  


Kasey's primary role is to work with the Roseville Police Department and local service providers on homeless issues, particularly within the Downtown Roseville area. Kasey follows up at the request of a police officer and engages with homeless or individuals at risk of homelessness in need of assistance. She then connects them to the appropriate services in hopes that they will eventually get back on their feet. Kasey is often seen working in parks and around Downtown Roseville.  
Some of the homeless support services offered through Placer County include mental health services, housing, substance abuse management, and referrals to primary care. Kasey also visits locations such as food banks and shelters to educate those in need about these services. In addition, she has been sharing knowledge about COVID-19 to homeless individuals and connecting them with places to shelter to reduce their exposure to the virus. To support Kasey in her efforts, there are plans to add an additional homeless outreach worker as well as a social services practitioner to the team.  


Kasey believes that a successful connection begins with trust. Oftentimes, homeless people are not ready to accept services when initially offered to them. However, many have returned to accept assistance at a later date. And through Kasey's guidance, many have gotten on life-changing paths.  


The Roseville Police Department works together with city and state departments and other organizations to keep Downtown Roseville and the rest of Roseville safe. Some of these organizations and departments include the Family Mobile Team, which specializes in working with juveniles and families in need, and Placer County Probation, which works with those on probation, including homeless individuals. 


An emphasis on community connections and building trustworthy relationships with those within the community is key to what makes the Roseville Police Department stand out. They have recently implemented a body-worn camera program in order to increase transparency and accountability while strengthening the relationship with the community. They also continue to hold in-person and virtual events, meetings, and programs to educate the community on police work and to hear from the community.  


To take an active role in keeping our community safe, we encourage you to report any suspicious activity to law enforcement. Anonymous crime tips can be submitted through the Roseville Police Department section on the City of Roseville website here or by calling (916) 774-5000. In case of emergency, please call 911 or (916) 786-6444.  
Downtown Roseville enewsletter sign-up 
Featured photo above: (L) Officers of the Roseville Police Department at Vernon Street Town Square; (R) Kasey Lix, Homeless Outreach Advocate