Refresh, Renovate, and Revive Downtown Roseville
in
Information, Businesses, & Events
---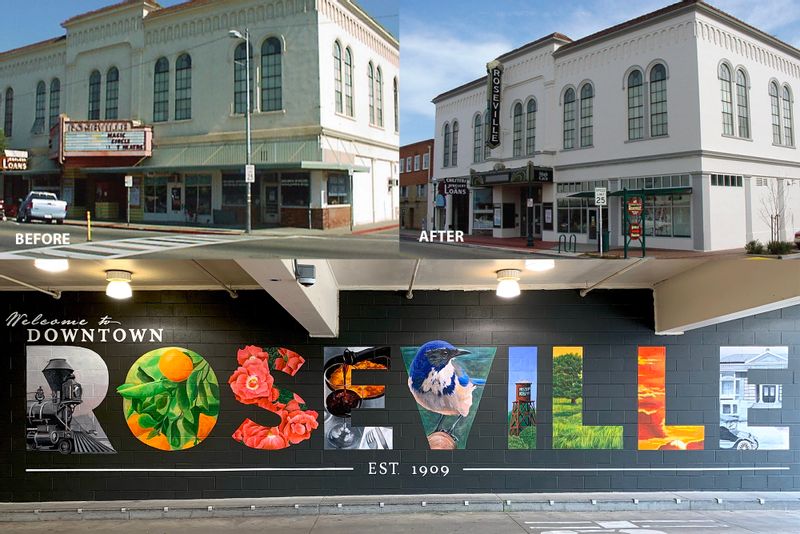 There are many reasons why a city should invest in reviving its Downtown. One reason is that Downtown serves as a central gathering place for the community. Additionally, many tourists from outside the community are also interested in visiting a city's Downtown. Downtown and main streets reflect the economic health of the community. More specifically, our Downtown is the heart and soul of Roseville. 
To add to this, small businesses are the backbone of the economy and a means of survival for the owners, employees, and their families. According to the U.S. Small Business Administration (SBA), small businesses make up 99.9% of U.S. employer firms and nearly half of Americans are employed by small businesses. Downtown Roseville is composed almost entirely of small businesses and local nonprofits. 
The City of Roseville and Downtown Roseville Partnership (DRP) have long recognized the importance of Downtown Roseville and have been making improvements to the Downtown area. Learn about a couple of the ongoing projects below, each with a goal to make Downtown an even more beautiful place to visit.  
DOWNTOWN ROSEVILLE FACADE IMPROVEMENT REBATE PROGRAM
A collaboration between City of Roseville and Downtown Roseville Partnership, property and business owners with buildings within the Downtown Roseville Business Property District (PBID) can apply for a rebate ranging from $1,000 to $10,000 towards their project. A maximum of $1,000 can be applied for City of Roseville permit fees and the rest towards the cost of materials.  
Some improvements that qualify for the rebate include signs, awnings, windows/doors, paint, lighting, stucco, siding, tile, and landscaping materials (e.g. fencing, planters, trees, bushes, pavers, etc.)  
Since the program began, it has paid out $35,000 towards improvements to the following buildings: 
| | | |
| --- | --- | --- |
| Address  | Improvements | Rebate Amount |
| 311 Judah Street | Siding, Windows, Paint, Resurfacing Parking Lot, Landscape | $10,000  |
| 106 Judah Street | Sign, Fencing Screening  | $5,000 |
| 105 Vernon Street | Windows, Lighting, Awnings, Doors, Landscaping  | $10,000  |
| 500 Vernon Street | Stucco, Paint, Windows, Lighting, Awnings, Doors  | $10,000  |
The following are upcoming projects:
| | | |
| --- | --- | --- |
| Address | Improvements | Rebate Amount |
| 347 Atlantic Street  | Awnings, Lighting, Paint, Sign, Decorative Material, Door  | $10,000 |
| 400 Vernon Street | Lighting, Paint, Sign, Windows, Fencing for Outdoor Dining  | $10,000 |
Previously, 240 Vernon Street (now Monk's Cellar), 241 Vernon Street (now Roseville Theatre Arts), 417 Vernon Street (Tower Theatre), and others benefitted from previous façade programs through the redevelopment agency or Roseville Community Development Program.  
For detailed information about the current program and how to apply, please visit this page on City of Roseville's website.  
ROSEVILLE MURAL PROJECT
Sponsored by Downtown Roseville Partnership, Blue Line Arts has created many vibrant works of public art in Downtown Roseville and throughout Roseville as part of the Roseville Mural Project. These pieces help to brighten up the area and to create a lively and welcoming scene.  

Visitors who park in the Vernon Street parking garage will be greeted by a colorful and symbolic mural that reads "Welcome to Downtown Roseville" by artist Ellie Gainey. You won't be able to miss Madelyne Joan Templeton's "Native Florals & Patterns" if you walk by Lucy's Hair Salon. This painting of a beautiful woman surrounded by roses is certainly very alluring. Stop by for a new 'do while you're there!  
The following is a list of current murals in Downtown: 
| | | |
| --- | --- | --- |
| Location | Name of Mural | Artist(s) |
| Lohse Apartments Lobby  | | Women Veterans and Jennifer Iams-McGuire |
| Lucy's Hair Salon  | | |
| Bill Smith Photography  | | |
| Vernon Street Parking Structure | "Junction" | |
| Blue Line Arts Alley | | Youth Mural Camp |
| Project Go | | |
| Acton Academy | | MJ Lindo & Joshua Lawyer |
When the murals are being painted, Blue Line Arts holds guided mural tours so the public can see these masterpieces come to life right before their eyes. Self-guided tours are also recommended, and Blue Line Arts includes a map on their website to help you through it. Previously, a mural scavenger hunt has also been held to engage the community.  

There have been talks about an additional round of murals in 2022. We will post updates regarding this as we receive more information.  
Downtown Roseville enewsletter sign-up