Meet the Women of Downtown Roseville Partnership
in
Information, Businesses, & Events
---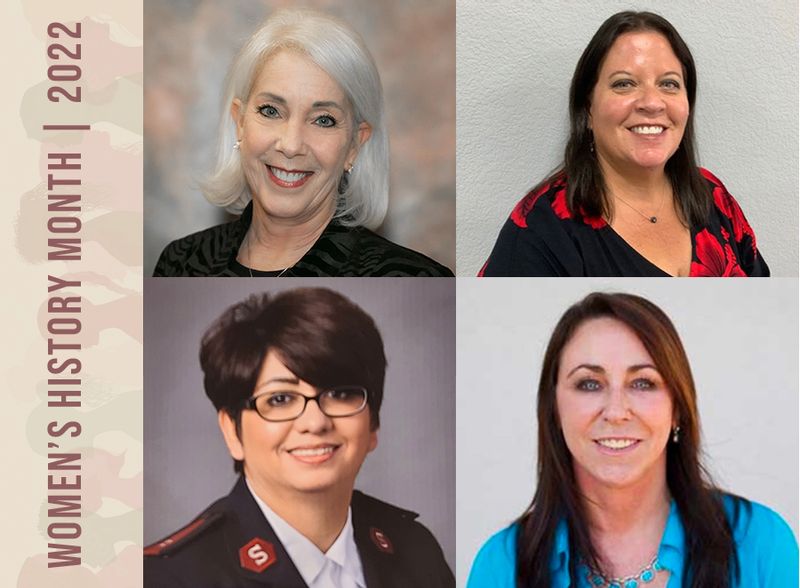 This month we celebrate women. We highlight all the accomplishments women have made in history and encourage them to give whatever they are passionate about their all. However, we're happy to say that many women close to home have already made big strides. As a matter of fact, if you look through the Downtown Roseville Directory, you'll notice that many women are business owners or hold a leadership position at a non-profit in Downtown Roseville.  
What is incredible about the women on the DRP board & staff is that they play many roles. They are business owners, mothers, and/or leaders, just to name a few. With so many hats to wear and such busy lives, you would expect them to buckle under the pressure, but absolutely not — they are strong, kind, and compassionate women, many of whom many in the community have the pleasure of knowing and working with. They're people who love helping others and people who enjoy everything life has to offer. Let's get to know who these wonderful women are! 
Lisa Peters  
Vice-President  
Lisa is well-known around the community. Not only does she fill her role as Vice-President of DRP, but she's also the owner of two successful food businesses in Downtown Roseville—Randy Peter's Catering & Event Center and 105 Noshery. Her businesses are award-winning and have received recognition from Style Magazine, from the City, and from the public.  
She's very active in not only championing women, but for the community as a whole. She frequently organizes and participates in charity events such as 100+ Women Who Care and donates meals to families in need during the holidays. She is also known to give back to the community through her catering business by making donations or giving discounts to non-profit organizations. She's served on the Chamber of Commerce for many cities in the Sacramento Area, including Roseville, of which she is currently a board member.  
Lisa's words of wisdom: Where much is given, much is required.  
Jamie Hazen  
Board Member  
Jamie loves to volunteer in the community. Aside from being a board member at 
DRP, she is also the treasurer to the Downtown Merchants Board of Directors, 
where she helps connect and assist business owners in Downtown Roseville. Look for her out and about this summer as she coordinates the return of Downtown Tuesday Nights on Vernon Street in June and July. 
Jamie also serves on several other local boards, including the Roseville Police Activities League, Placer Visitors Bureau and the Performing Arts of Roseville Board of Directors. She's also an active member of the Roseville Chamber of Commerce and is a proud Blue Star Mom. 
Jamie loves being downtown Roseville and feels the vibe is really picking up with all the great restaurants and fun events planned in the streets and the Vernon Street Town Square. 
Jamie's words of wisdom: Perseverance. She believes with a little grit and determination, 2022 still has the markings to be a productive and creative year. 
Capt. Clarissa Ochoa-Oliveira  
Board Member 
Even though Clarissa is DRP's newest board member, she's no stranger to taking on a leadership role. She's also currently a Corp Officer/Pastor at The Salvation Army in Roseville. Prior to her arrival in Roseville, she served at The Salvation Army Yuma Temple in Yuma, AZ, at The College for Officer Training as the Field Training Officer in Rancho Palos Verdes, CA, and at Del Oro Divisional Headquarters as The Divisional Women's and Community Care Ministry Secretary. She received her B.A. in Counseling from Nazarene Bible College in Colorado Springs, Colorado and an M.A in Organizational Leadership from Point Loma University in San Diego, CA. 
Clarissa was born in Mexico to two lovely, hard-working parents who passed on their amazing work ethic to her. Aside from work, she's also a mother to two wonderful sons. She values her time away from work to relax and be with her family. In her spare time, she also enjoys sleeping late, painting, and watching movies.  
Her compassion for others is taught through her faith in God and she enjoys seeing lives transformed through her work at The Salvation Army and as a member of DRP.  
Clarissa's words of wisdom: Be open to change and opportunities. Follow God's path. "I will instruct you and teach you in the way you should go; I will counsel you with my loving eye on you." (Psalm 32:8) 
Kat Maudru 
DRP Consultant 
Kat works tirelessly to assist in the day-to-day operations of DRP. Her efforts and the information she provides are paramount to update the public about what's happening in Downtown Roseville.  
She has been involved in public relations and the news world for many years. Hailing from the Bay Area, she received her B.A. from U.C. Berkeley and a Master's degree from San Francisco State. She spent over 20 years on 96.9 The Eagle as a morning co-host, news director, and public affairs director. She has also hosted at the Morning Edition of CapRadio. Kat also serves as the district's publicist.  
She's passionate about community involvement and nonprofits. She serves on several boards, including DRP, and frequently volunteers to emcee for charity events.  
In her personal life, she's wife to her high school sweetheart and a mother to two grown daughters. She enjoys staying active through activities such as yoga, cycling, scuba-diving, and snow/water skiing.  
Featured Image Information:  
(Clockwise from Top Left: Lisa Peters, Jamie Hazen, Kat Maudru, Captain Clarissa Ochoa-Oliveira) 
Downtown Roseville enewsletter sign-up