A Walk Through Downtown Roseville's Side Streets
---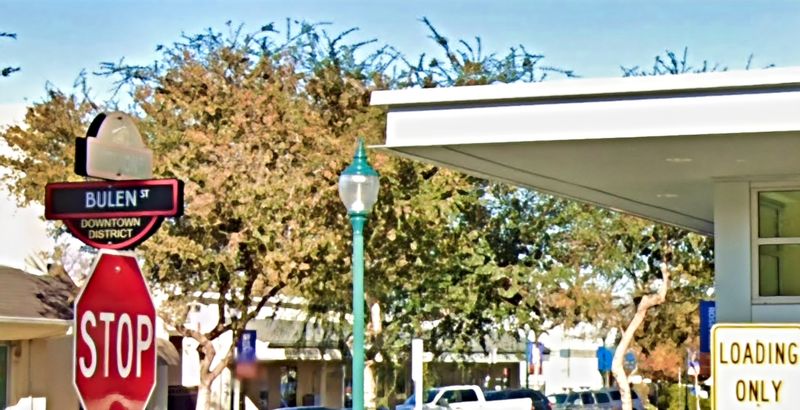 You've heard us talk a lot about Downtown Roseville's main thoroughfare, Vernon Street. It's hard to miss the large "Vernon Street" signs welcoming you to the area! We love Vernon Street, but we feel it's time to show Downtown Roseville's side streets some love. You'll find more than a few hidden gems in these lesser-traveled pathways. Follow us as we take you on a stroll starting from the Northeast end of Downtown Roseville, branching off from Vernon Street.  
CROSS STREETS 
LINCOLN STREET 
To the Left 
Walk past 105 Noshery on Vernon and take a left on Lincoln. There, you won't be able to miss Madelyn Joan Templeton's mural, "Native Florals & Patterns" on the exterior wall of Lucy's Salon & Spa. This mural was created as part of the Roseville Mural Project.  
Across the street from Lucy's, you'll find Wild Bill's Tattoo which has occupied 115 Lincoln for over 40 years.  
Walk further down and you'll encounter Cochrane & Wagemann Funeral Home, owned by our very own DRP board member, Doug Wagemann. Further down the opposite side, you'll discover Roseville Fire Station #1. Fire Station #1 was relocated from its previous location on 401 Oak Street to this current location several years ago in an effort for the public to have better access to Royer Park and Dry Creek. Interestingly, Roseville's first fire station, Fire House #1, was also located on Lincoln Street (in Historic Old Town).  
To the Right 
Walk around the Funky Zone building and you will reach Eagles Hall, belonging to the Roseville Eagles. This building is rich in history. The Roseville Eagles purchased it back in 1921 and it has gone through several rounds of renovations. It is currently available for rental for private functions.  
Directly across Eagles Hall, you'll see the side entrances of the large building formerly belonging to Consolidated Communications. This property was purchased by Tower Investments in 2021 and will be redeveloped into a building with retail, restaurant, office, and living space.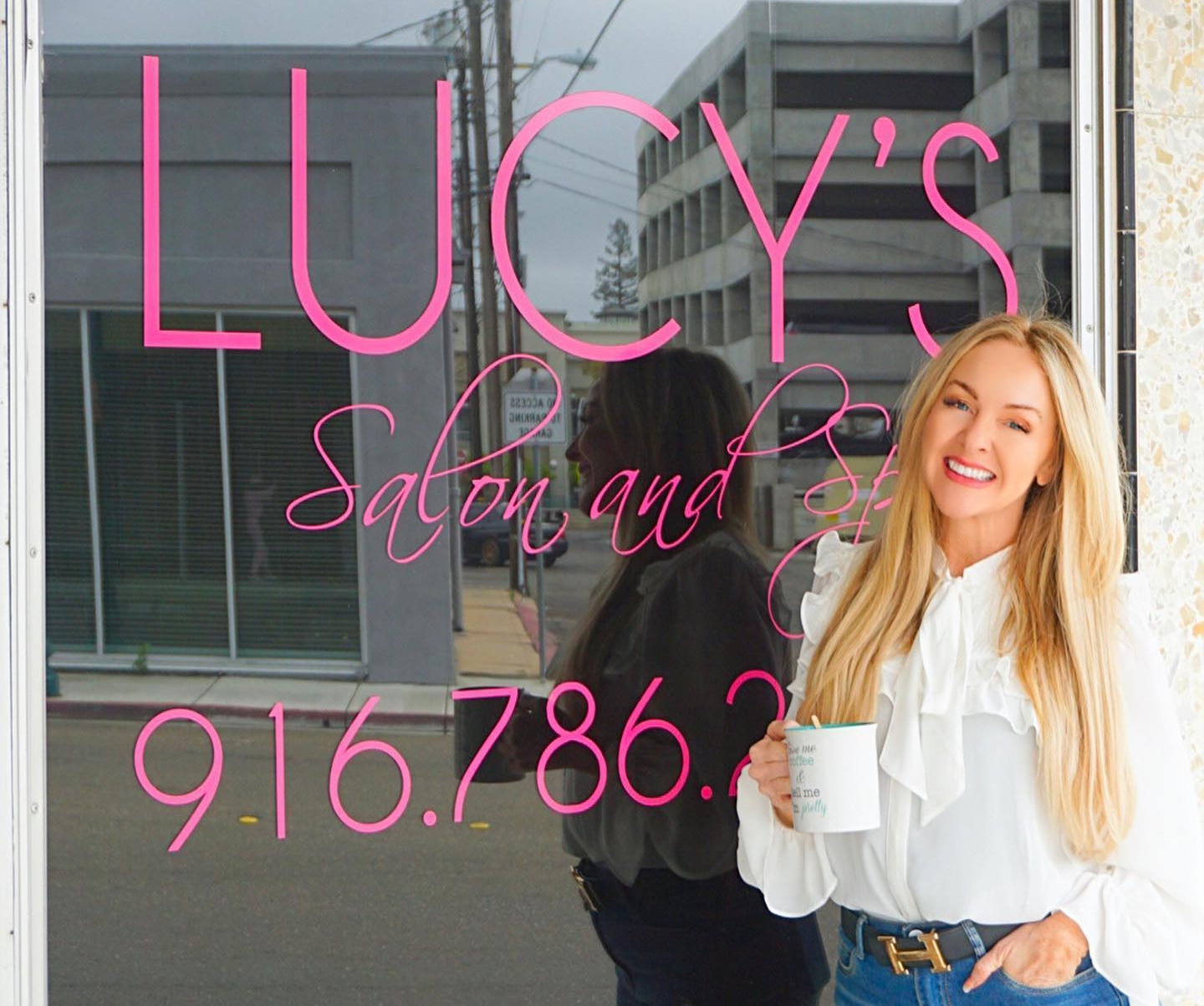 WASHINGTON BLVD. 
To the Left 
This is the way to enter one of Downtown Roseville's parking garages, the Oak Street parking garage. It has more than enough parking spots available for your trip to Downtown!  
To the Right 
Here, you will see another beautiful mural on the exterior wall of Lucas & Co. Salon. Walk a bit further and you'll see West House Tavern (technically located on 347 Atlantic Street), Placer County's oldest bar that has been open for 100 years and counting!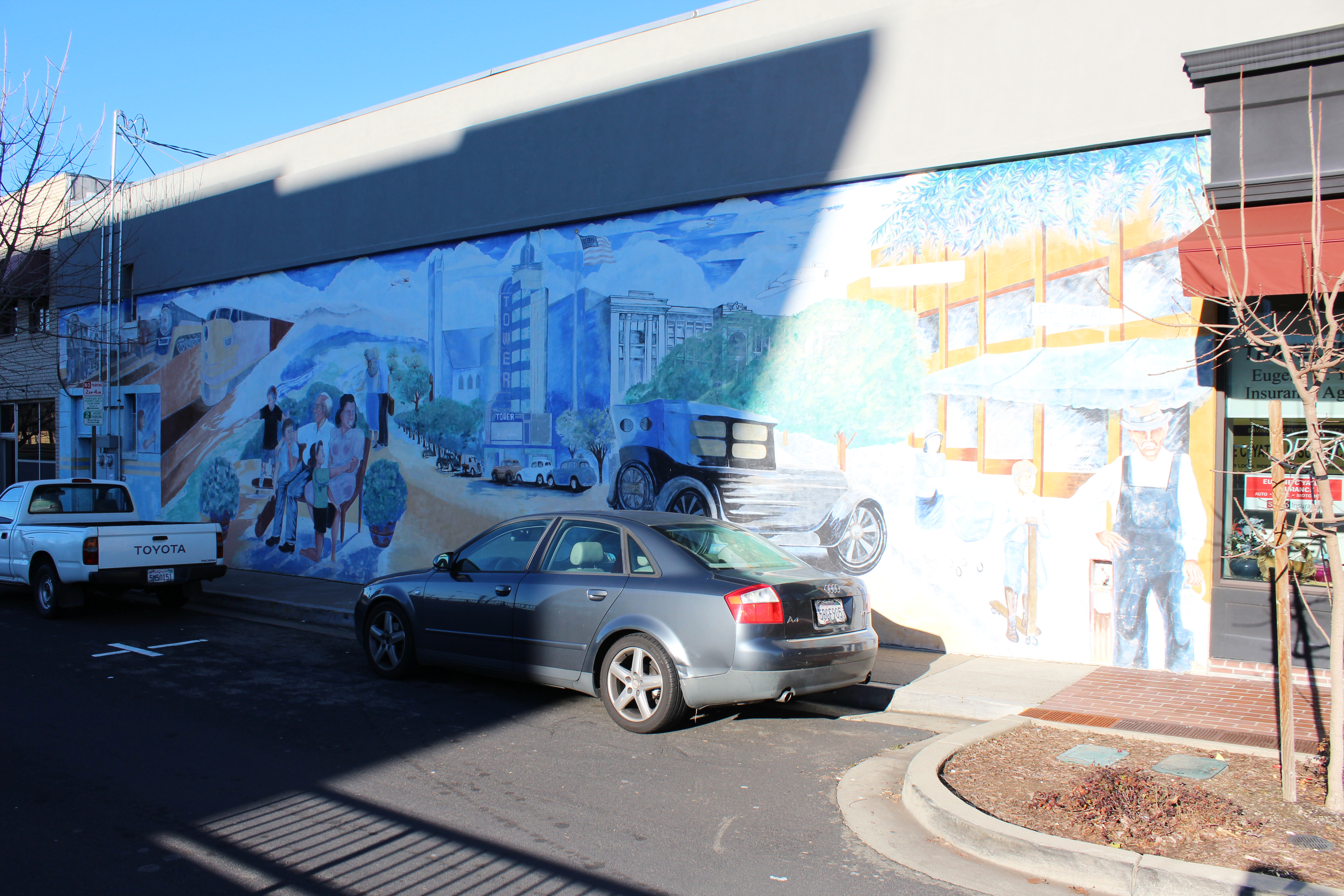 The mural seen on Washington Street.  

GRANT STREET 

To the Left 
Grant Street is frequently closed during events taking place in Downtown. You'll often find it lined with food trucks or see kids jumping around in the bouncy house that is placed here during Downtown Tuesday Nights.  
To the Right 
Turn the corner of DT Roseville's newest restaurant, The Trax, and you'll spot a row of fine local businesses including The Girls Salon, Neighbor's Home Realty, Community Home Mortgage, and Replenish Spa.  
Downtown Tuesday Nights attendees as seen from Grant Street. 


TAYLOR STREET 
To the Left 
Did something catch your eye? See one of the Roseville Mural Project's colorful murals on the exterior wall of Winks Fitness here. This surreal mural, called "Harvest", was created by local artists S.V. Williams and Molly Devlin. It depicts a woman studying a blackberry fruit and is inspired by the natural elements around Roseville. 
Located at 115 Taylor is the office of residential and commercial architect Dave Piches. Dave is currently the president of the Downtown Roseville Partnership and is the founder of Piches Architecture, with decades of experience in the field. 
Continue on and you'll be at Tax Owl (previously known as Sill & Associates), a local accounting firm. The Downtown Roseville Library is directly on the opposite side. This branch features the Local History Center, where you can learn more about the community's roots.  
See the ramp? Take the trail and it will lead you to Royer Park, Downtown Roseville's beloved spot that's great for outdoor activities. 
To the Right 
There it is, the Village General Store! Before they opened in 2021, the area's residents and visitors had for some time expressed the desire to have a general or grocery store in Downtown. The fact that they encourage sustainable living with their bulk products is a plus!  
Across the street, you will see trucks filled with dairy products belonging to D & P Creamery. They are wholesalers and have been serving Roseville businesses for over 50 years.
This colorful mural can be seen on Vernon & Taylor.  

JUDAH STREET 

To the Left 
L and D Sustainability and Results Property Management are the first businesses you will come across. Walk further down and you'll spot a light yellow building, Village Acupuncture. Pass a couple of residential homes and you will see the Law Office of Michael J. Hurley, and Spencer's Business Services.  
BULEN STREET 
Turn the corner of Lohse Apartments. You'll pass by a few houses until you come across Shady Coffee & Tea across the street. Serving coffee, tea, and bites, this quaint little café is a diamond tucked away from the hustle and bustle of Vernon Street.  
Shady Coffee & Tea is located down Bulen Street, on Douglas. // Shady Instagram 
ADJACENT STREETS 
OAK STREET 
Parallel to Vernon Street on the southeast side is Oak Street. Starting from the Oak Street Parking Garage, you will come across a roundabout that will give you a view of a metal bridge (called the Rube Nelson Ice House Bridge) that leads to Royer Park. This bridge has an interesting past and was moved to its current location back in 2018. The Roseville Veterans Memorial Hall is located right next to this bridge and is available to rent for events. 
Across from Town Square, you will see a wide pedestrian bridge (completed in 2019) that leads into Royer Park. This bridge was the location for The Bash that happened earlier this year and will be a popular spot for future Downtown Roseville events.  
Further down Oak Street, you will see the new location of the United States Postal Service to your right. The USPS moved to this location in 2020 as the space was more suitable for their daily operations.  
Directly across from the Vernon Street Parking Garage are a few charming cottages occupied by family therapist Gwen Ayliffe, clinical psychotherapist Judith C. Kelly, Jillibreez Salon, The Bridal Box, and California Recovery Center.  
Further down to the right in an elevated building is Carlson Tax Consultants, owned by DRP board member and certified public accountant Tom Carlson. Further down is East West Acupuncture Center, the second acupuncture spot in Downtown.  
Across the street is a white flat-roof building occupied by Lighten Up Salon and certified optometrist Ralph S. Baker, OD. Finally, near the end of the street, we have Action Properties, Wellness Within, and Oak Family Dental. 

The roundabout on Oak Street, the Rube Nelson bridge, and Roseville Veterans Memorial Hall. 
ROYER STREET 
Starting from Tax Owl and heading southwest, you will reach Optimal Weight & Wellness Center, the front entrance of Village Acupuncture, and Healthy Living with Purpose. 
ATLANTIC STREET 
And finally, we have Atlantic Street where you are greeted by the iconic Southern Pacific Railroad Steam Locomotive No. 2252. Walk past all the parking spaces and you'll be on the other side of West House Tavern. If you need a quiet place to sit and have lunch, we highly recommend the benches by the Sierra College building that can also be accessed via Atlantic Street!