Even More Downtown Roseville History
---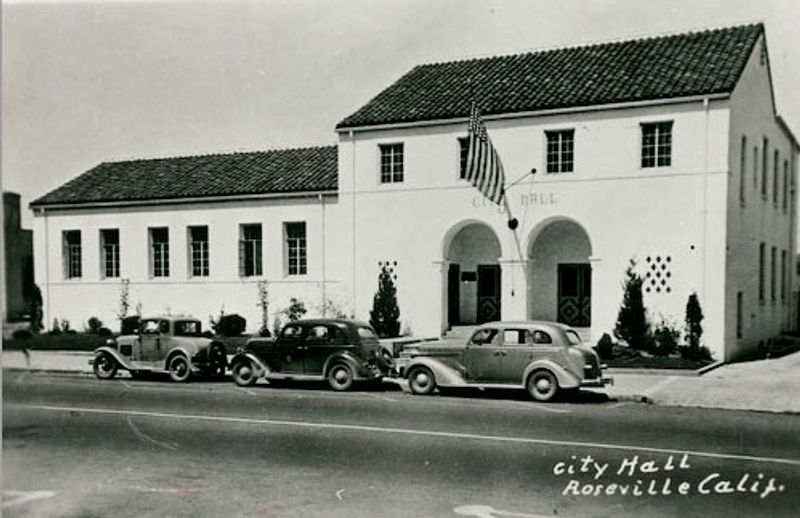 We previously introduced you to the history of Downtown Roseville. But there's much more to it. There are many buildings that were built in the 1920s that are still standing today. These structures that are over 100 years old have stood the test of time and continue to give Downtown Roseville its character. Learn more about some of them below!  
 
WEST HOUSE TAVERN BUILDING  
Oldest Bar in Placer County and Downtown's Longest-Running Business | 347 Atlantic Street 
Tucked away on the corner of Washington and Atlantic, the West House building was built in 1907 by F.B. Rossi for George West, which also makes it one of the oldest buildings in Downtown still standing today. The two-story building was originally used as a restaurant/bar on the ground floor and as a boardinghouse with rooms on the upper floor. The boardinghouse accommodated many new people coming to Roseville as a result of the railroad expansion.   
 
George West was elected treasurer of Placer County in 1911, so F.B. Rossi and his wife took over the management of the building. Management was handed over to a Mr. Galli in 1917. Avano Frediani rented the building in 1918 and ultimately purchased it in 1946. The building was remodeled in 1947 and again in 1996, so the façade has changed greatly in appearance. However, the interior remains mostly true to how it originally looked. West House Tavern has been owned by the Frediani family for over 100 years and remains a popular hangout spot for visitors of Downtown Roseville.  
The West House circa 1908 // The Press Tribune via Roseville Historical Society

ROSEVILLE EAGLES BUILDING 
124 and 130 Vernon Street 
Built in 1912, the Roseville Eagles building has served as the meeting spot for the Roseville Eagles since they purchased it in 1921. They remodeled it in 1929, but it has been virtually untouched since then. By 2005, the building was showing very noticeable damage. With a $10,000 grant from the City and an additional $35,000 of their own funding, the façade was completely renovated. The interior was remodeled between 2009-2012, with work done to the Club Room, kitchen, bathrooms, and main hall.  
Other than the Roseville Eagles, the building was once occupied by Denny's Cafe (not to be confused with the Denny's chain of restaurants) for an extended period of time (since the 1970s according to one source) until the restaurant closed its doors sometime between 2015 and 2016.  
MASONIC TEMPLE/ ROSEVILLE THEATRE
235 Vernon and 241 Vernon Street 
This building was constructed in 1926 and since then has served its original purpose of housing the masonic lodge and as a venue for live theatre. The Roseville Theatre Arts Academy opened its doors in January 2011 after the former theatre closed.  
The Roseville Theatre as it appears today // City of Roseville
TOWER THEATRE 
417 Vernon Street 
Speaking of theatres, Tower Theatre is undoubtedly one of the most recognized structures in Downtown Roseville. This theater was completed in November 1940. Upgrades to the building were done in 1955. It served as a movie theater until the 1970s. After it closed, it was used as an events venue and occasionally had theatrical showings. It was also open for rentals for a period of time. 
Tower Barber, located adjacent to the Tower Theatre, has also been operated by the same owner for over 50 years!  
 The Tower Theatre circa 1940 // geocaching.com
ROYER PARK
190 Park Drive 
The Royer family, for which the park is named, sold the land to the City. Royer Park was Roseville's first major park and completed in 1917. It has been extensively used for recreational purposes and to host special events ever since.  
WILD BILL TATTOO/ STRUM SHOP BUILDING
201 - 209 Vernon Street  
Construction of the building on 201-209 Vernon was completed sometime between 1922 and 1923. First Bank was the largest business to occupy this building until they closed the branch in 2019. They still have a branch in Downtown Roseville on 401 Vernon Street and have been serving the area since 1978.  
Wild Bill Tattoo has many years of history and has been located on 115 Lincoln Street for over 40 years. The Strum Shop can also be found in this building and has been selling instruments and offering music lessons since May 2012. 
VETERANS MEMORIAL / ICE HOUSE BRIDGE 
110 Park Drive 
The Ice House Bridge was built in 1925 and originally used by workers of the Pacific Fruit Express Ice Plant, which was the world's largest artificial ice manufacturer at the time. It was relocated in 1986 and again in 2018 as part of the Downtown Bridges & Trails project. Learn more about the project here!  
The Veterans Memorial Hall located adjacent to the bridge finished construction in 1930 and honored Roseville's war veterans.  
The Veterans Memorial Hall at Royer Park // Roseville Historical Society


FEATURED IMAGE: FORMER CITY HALL 
316 Vernon 
The featured image shows Roseville's former City Hall building, which served as Roseville's City Hall from 1911-1987, until the current Civic Center was built across the street. This old building was demolished in 2015 and replaced with a modern building that currently houses Sierra College, Roseville Venture Lab, and Goose Port Public House.  
Many thanks to The Roseville Historical Society for pulling together much of this information. Other sources include City of Roseville, State of California Department of Parks & Rec Primary Records, Roseville Press-Tribune Archives, and the merchants' respective websites.  
Downtown Roseville enewsletter sign-up