Feeling Lucky? Things to do in Downtown Roseville for St. Patrick's Day
---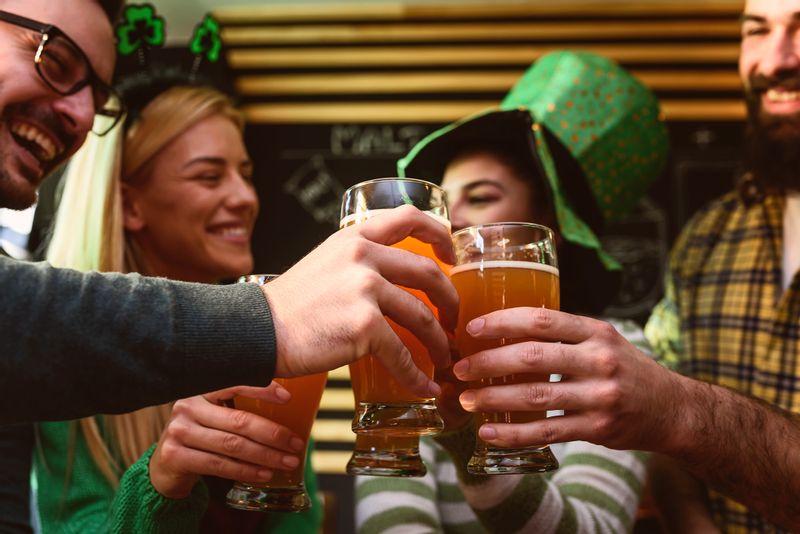 St. Patrick's Day, originally a religious Irish holiday, is now celebrated annually by Americans of all ethnicities. It's without a doubt the most prominent holiday in March. You'll see many places decked out in green and gold and symbols of good luck scattered across the country to represent the luck of the Irish. See how you can celebrate St. Patrick's Day in Downtown Roseville!

FESTIVE BEER & FOOD
St. Patty's Day Party @ Monk's – Don't miss this annual party featuring Irish food, music, fun, and of course, beer!
Beer-battered Pickle Chips – This small bite served with sriracha mayo will wake up your taste buds with a kick of tangy flavor. Get them at The Trax!
Fish and Chips – Several of our Downtown Roseville restaurants serve up this classic from the UK. Monk's Cellar, Vernon Street Grill, and Goose Port – try them all!
Irish Stout – Goldfield Trading Post serves up this Irish classic by Guinness. Take a sip and pair with some delicious food from their full menu while jamming to music by Badflower on March 17th.
Corned Beef Sandwich at Goose Port – Fun fact: corned beef is not traditionally eaten in Ireland. It is actually an Irish-American dish that was introduced when the Irish immigrated to the United States! Take a bite of this St. Patrick's Day staple at Goose Port with a side of fries!
Potatoes and More – The Irish are known to be potato lovers and there's no better way to celebrate the Irish holiday than with one of Randy Peter's delicious baked potatoes. They have 6 kinds to choose from in their individual meals menu. Also, don't miss their "Erin Go Brach" menu with St. Patrick's Day specials including a variety of corned beef dishes and Irish sweets.
LET'S GO GREEN
Décor and Accessories - Head to Terra Cottage Boutique where you will find home décor items such as vases and planters. We've also come across a few pieces of green jewelry that will complete your St. Patrick's Day outfit.
Florals and Botanicals – You can't get greener than plants! Let the professional florists at Bartlett Flowers and Gifts craft you the perfect St. Patrick's Day bouquet.
Green Colored Hair – Ready to go bold? Perhaps green hair will bring you luck! See what colorists at Lucas & Co. or The Studio Salon can do for you.
Green and Gold Nails – Complete your St. Patrick's Day look with a fabulous manicure and pedicure from Vernon Nail.
IRISH FUN
Irish and Scottish Learning Session @ The Strum Shop – Every third Thursday of the month, learn how to play traditional Scottish and Irish tunes in this FREE lesson where participants can learn how to play various traditional and non-traditional instruments. This lesson is geared towards beginner/intermediate players, but all skill levels are welcome.
Create at the Library: Rainbows – The Downtown Roseville library will be making rainbows this month as their monthly craft activity. This activity is free and open to all. Available daily from March 13th to March 24th (except Sunday, March 19th ).
Downtown Roseville enewsletter sign-up