Ways to Love the Planet on Earth Day
---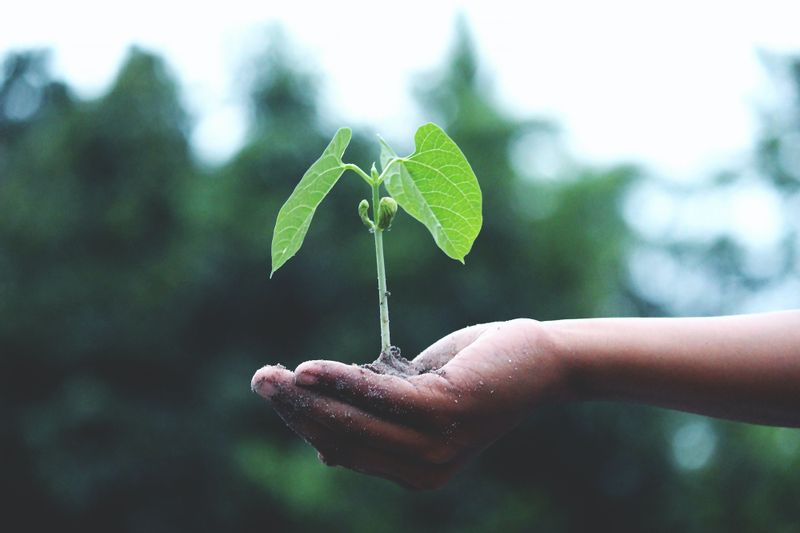 Earth Day takes place on April 22nd. This national holiday dates back to 1970 and is dedicated to promoting eco-friendly living and spreading awareness about environmental issues. We should all make a combined effort to take care of our planet. Here are some ways you can do your part in Downtown Roseville.

ADOPT A SUSTAINABLE LIFESTYLE
You know the phrase you learned as a kid... "reduce, reuse, and recycle"? Let's start with that.
Reduce the need to throw away or recycle in the first place. Grocery bags piling up? Save your change (and time needed to clear the clutter) by using reusable fabric grocery bags that typically cost only a few dollars at most.
Second, think of ways you can reuse materials you've used before. D.I.Y. and turn your old furniture into a new work of art. Turn an empty candle glass into a vase or pencil holder. The list goes on!
Finally, if there's absolutely no way to reuse a material, then recycle it. But make sure what you're tossing into the recycle bin can be recycled. It typically has the triangle symbol on it if it can be recycled (♺). And make sure what you are recycling is clean. No leftover food or drink residue.
Downtown Roseville's Village General Store & Refillery is a wonderful place to go for those interested in living sustainably. Fill reusable containers with essentials you can buy in bulk. They also have a recycling station as well as frequent drop-off days for food scraps that can be used for composting.


Refillable containers with refillable goods from Village General Store & Refillery. // Village General Store & Refillery
DINE OUTDOORS
There are few things more relaxing and enjoyable than dining outdoors on a beautiful spring day. Take advantage of the outdoor patios of Downtown Roseville's restaurants. We recommend Goose Port and Monk's Cellar.


Goose Port has a large patio for you to soak in the pleasant weather. // Goose Port
ADD FRESH FLOWERS OR PLANTS
Bring some blossoms and greenery into your front yard, back yard, or inside your home. Plants help bring oxygen inside the house and improve air quality. You may also find caring for plants to be a calming activity and notice elevated mood and reduced stress levels. We recommend Bartlett Flowers & Gifts, they offer some of the freshest florals and plants in town!


Beautiful flowers and plants await you at Barlett Flowers & Gifts. // Barlett Flowers & Gifts
PURCHASE PREOWNED CLOTHING
Give clothing a second life and purchase it from a resale shop like Threads Clothing Exchange. Often times, these items are in great condition and have only been worn once or twice. Not only are you usually saving money, but you're also preventing wearable clothing from ending up in the landfill.


A wide selection of new and pre-owned clothing at Threads Clothing Exchange. // Threads Clothing Exchange
CHOOSE VINTAGE DECOR
Similar to clothing, shopping vintage décor is also another great way to reduce waste (and also add some character to your home in the process!) What we love about vintage stores is that you can often find unique items that are no longer mass produced. Check out The Grande Collective in Downtown Roseville, they regularly stock new and certified vintage pieces!


The Grande Collective's rotating collection of vintage goods. // The Grande Collective
EAT YOUR GREENS
There's been ongoing debate about whether eating meat is bad for the environment. Some agree it's bad, while others beg to differ. We won't get into that. What we know for sure is that the leafy greens Mother Nature created are good for you. Greens such as kale and spinach are rich in vitamins A, C, E, and K. According to Healthline, consuming leafy greens can reduce the risk of obesity, heart disease, high blood pressure, and mental decline.
Nearly every restaurant in Downtown Roseville serves salad such as Shady Coffee & Tea's Green Apple Salad, which is a delicious mix of sweet apple and leafy greens, and Vernon Street Grill's tuna salad, which also helps you get your proteins and omega 3s!


Shady Coffee & Tea's Green Apple Salad – yum! // Shady Coffee & Tea
SHOP LOCAL
Shopping at your local small business is also beneficial to the planet. The goods they sell are typically produced by local artisans so it cuts down on transportation which emits air pollutants and harmful gasses into the air that can cause smog and acid rain. Big box stores typically take up a lot of space as opposed to small businesses. Wildlife is often affected when areas are cleared to make room for these large stores. Not to mention, shopping locally has additional benefits.
Terra Cottage Boutique stocks clothing and home décor inventory from local makers. We think it's a wonderful place to visit if you're looking for a special gift for someone.


Locally sourced clothing and home goods at Terra Cottage Collective. // Terra Cottage Boutique
PARTICIPATE IN AN OUTDOOR ACTIVITY OR EVENT
Royer Park is located in Downtown Roseville. Getting your steps in with a walk or run is always a great idea, but you can do more than that in Royer Park. What about a good bike ride or a picnic?
Spring and summer events are also back in Downtown Roseville. This includes Wine Down Wednesday, Friday Flicks, Concerts on the Square and more. Downtown Tuesday Nights are also returning on June 6th !
Downtown Tuesday Nights in Downtown Roseville is a definite must-do this year. // Downtown Tuesday Nights
Downtown Roseville enewsletter sign-up