How to Travel Smart and Enjoy Your Vacation
---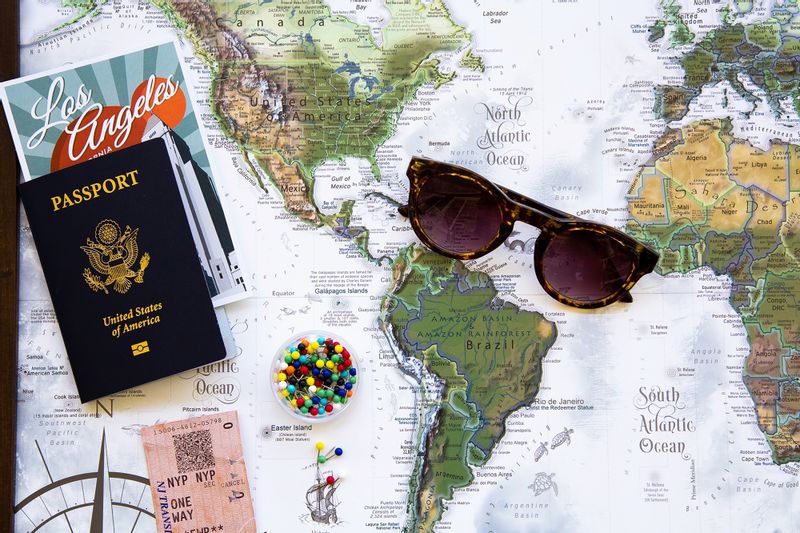 It's travel season! Are you excited about your upcoming trip? Thinking about the clear blue waters and warm sandy beaches of Hawaii? The splendor of the Eiffel Tower? Unfortunately, since a teleportation device or hyper speed plane has not been invented yet, we must deal with the "getting there" part which can be quite overwhelming. Here are some tips on how you can prepare for your trip and become a savvy traveler!

DON'T FORGET YOUR TRAVEL DOCUMENTS (AND KEEP THEM UP-TO-DATE!)
Begin your vacation on a positive note. There's nothing that sours a relaxing vacation from the get-go like forgetting your passport or attempting to use an expired ID or driver's license.

If you are due for an ID/driver's license renewal, we highly recommend getting a Real ID because that will be required for domestic travel starting May 2025. Getting one requires you to present documentation that shows your date of birth (such as a birth certificate or passport), your true full name, and mailing address.
You can apply for a passport in Downtown Roseville at the City Clerk. If you do not already have a passport photo, they can take one for you at your time of appointment for a $12 fee. Bill Smith Photography also offers passport photo services.
GET TO THE AIRPORT EARLY
The TSA advises getting to the airport two hours early for domestic flights and three hours early for international flights. Follow these guidelines to avoid the very real possibility of a car accident or road blockage significantly delaying your arrival at the airport. The farther away you are from the airport, the more time you should give for potential traffic issues. It's better to get there early than to miss your flight. Here are some additional information on factors that may affect how much time you spend at the airport.
HATE WAITING IN LINE? APPLY FOR TSA PRECHECK AND/OR GLOBAL ENTRY
Breeze past long lines and security and United States customs by becoming a trusted traveler. You will need to pay a fee and fill out some paperwork for both TSA Precheck and Global Entry, but we promise you it is worth it.
Sometimes, this can mean saving hours if you have the misfortune of running into a long and not-so-efficient checkpoint (we're looking at you, Chicago). But shaving off 15-20 minutes is also a godsend for those sluggish days you are running late and rushing to get on your flight. Also, not having to take off your shoes with TSA Precheck is a major win for us. Just remember to wear shoes with no metal or else this will be a moot point.
COORDINATE YOUR VACATION WARDROBE WITH YOUR ACTIVITIES (AND TRY TO PACK LIGHTLY!)
It's always wise to have a few versatile items packed that you can dress up or dress down, such as a nice pair of black leggings that you can wear sightseeing and also at a nice restaurant. Reversible and 3-in-1 items are even better.
Decide on what you will wear before you get to your destination. In other words, do not bring two fancy dresses or suits if you are only going to one nice dinner. Pick one and stick with it to save space in your suitcase.
Another particularly important thing to pack is a pair of comfortable shoes. Ladies, you do not want to be hobbling down the streets of Paris in painful high heels! This will surely take all the love away from such a beautiful place. Bring a pair of shoes that you are sure will be comfortable after 6-8 hours of being on your feet. Flats and low heels are usually the best bet. There are plenty of cute and comfortable options out there, such as these from Terra Cottage!
If you have a large wardrobe, you should not procrastinate and pack the night before. This is almost guaranteed to be a disaster and you will not get enough rest before your flight.

TRAVELING INTERNATIONALLY?
If you are traveling to an international destination, make sure you have a converter and/or adapter for that country if their electrical outlets and voltages are different. Converters and adapters are not the same.
Converters change the current voltage to the appropriate one while adapters will have different plugs that fit into the outlets for the respective region. The ideal thing to do is to bring a device that has dual-voltage and an adapter. But unfortunately, this is not available for many of our favorite electronics. So think about what is necessary for you and make a decision on what to bring based on that.
Also, make sure you have a communication and data plan during travel. Check with your cell phone company for their international roaming rates. It may often be more economical to get a SIM card or a portable WIFI device.

DON'T NEGLECT THE LITTLE THINGS
Throw a few of your favorite snacks in your carry-on or personal item that you can enjoy during your flight. We recommend transferring air-filled bagged snacks to Ziploc bags to save space.
Also, don't forget the 3-1-1 rule. Make sure all liquids you are packing in your carry-on are 3.4 ounces (or less) and fit in a single, quart-sized bag. Pack larger bottles of liquid in checked bags without being stopped by security.
We like bringing small refillable containers. Check out Village General Store & Refillery! They have essentials such as shampoo, conditioner, and body wash and also a selection of bulk snacks that you can take on your trip.

HOW TO MAKE YOUR FLIGHT GO FASTER
You may not be able to make your plane fly faster, but you can make it seem that way. Bring a nice book (the Downtown Library has tons), a portable video gaming device, and/or your favorite playlist. Also, paying extra for Wi-Fi may be worth it to be connected to the internet for extra entertainment.
For long-haul flights, sometimes a layover is a good idea. Getting off the plane, taking a bathroom break, stretching a bit, and re-boarding can make your trip feel quicker.
For those who do not mind spending more money on a flight, we highly recommend upgrading to business or first-class seats such as United Polaris. We are here to tell you that having extra leg room and being able to lie down will make a world of difference.
Downtown Roseville enewsletter sign-up