Downtown Roseville Has Gone High-Tech in 2023
---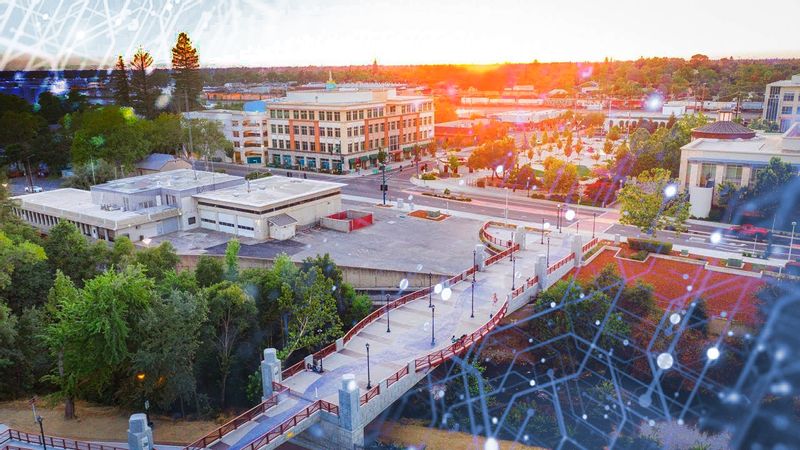 You have surely heard the term "AI" or "Artificial Intelligence" in various advertising channels this year. The current trend for companies seems to be implementing "AI" or "AI-based technology" in as many departments as possible. However, there are additional forms of technology that are worth noting. And many of these upgrades have been made in Downtown Roseville!
MOBILE APPS
City of Roseville's New myRSVL Mobile App
This new mobile platform allows the public to further engage with City of Roseville. Users can submit service requests, report issues, and discover additional information about upcoming events, career opportunities, general news, and more.
Download the myRSVL App Here »


Goose Port Rewards Program and Mobile App
If you are a fan of loyalty rewards, then we have great news for you! Goose Port Public House has recently launched a rewards program, which will bring additional perks to customers. For starters, you get a $5 bonus just for signing up. Then celebrate your birthday with a $5 discount. There are many point tiers and prizes; the top tier is 1000 points which you can exchange for a $50 coupon!
By downloading their mobile app, you can access additional exclusive offers, earn rewards, place orders, and more.
Learn More about the Program and Download the Goose Port Rewards App Here »


Downtown Roseville Ride EShuttle Mobile App
There was a positive response to our Downtown EShuttle pilot program which concluded on October 15th. During this program, we further expanded on the possibilities of this service with a mobile app. Through the app, passengers had the ability to request a ride to and from adjacent neighborhoods, track their rides, and check estimated wait times.
We are currently gathering the results and feedback from this pilot program and determining whether the eshuttle should be a permanent part of Downtown Roseville. Please stay tuned for updates in the coming months.
Information About the EShuttle »

A NEW CHATBOT
Welcome, Rosie!
Meet Rosie, the City of Roseville's new chatbot that can assist in reporting issues and help residents and visitors gain general information about the area. To talk to Rosie, simply text "hello" to 866-25-ROSIE (76743).
UPGRADED WEBSITES
Roseville Area Chamber of Commerce
A major update has been made to the Chamber's website. The site not only meets more recent web standards but is also more streamlined and easier to navigate. Users can access various important tasks right from the home page. We think this is a big step forward in the Chamber's mission to serve Roseville businesses.
Visit the Roseville Area Chamber of Commerce Website »

Randy Peters Catering and Event Center
Randy Peter's website has also gone through a refreshing transformation. Their website now welcomes visitors with an interactive video background highlighting a variety of the dishes they offer along with other modernized features. Additionally, the business has completed a rebrand with an updated logo, fonts, and colors.
Visit the Randy Peters Website »

Threads Clothing Exchange
Threads has introduced e-commerce to their website. Now you can shop online and pick up your order in-store or have it shipped to you! It's wonderful that they have expanded their shop to a larger audience and have made the purchasing process more convenient.
Shop Threads Clothing Exchange »
CRYPTOCURRENCY
The Salvation Army
Cryptocurrency (and especially Bitcoin) is continuing to take the world by storm, with a growing number of businesses implementing its acceptance. The Salvation Army has recently begun to accept cryptocurrency donations through the Engiven platform. Through this platform, you can donate many types of digital currency such as Bitcoin, Ethereum, and Tether.
Donate to The Salvation Army »

UPGRADED WI-FI
Downtown Roseville
Through Consolidated Communications, Downtown Roseville's Wi-Fi connection keeps getting better. Fidium Fiber is an innovative technology that utilizes fiber optics instead of your traditional cable for access to the internet. It's designed to bring faster speeds, a more reliable connection, and a wider coverage area.
Read More About this Upgrade »

EXCELLENCE IN TECHNOLOGY AND INNOVATION
City of Roseville
Our city is continuing to gain recognition and win awards for keeping up with the latest technology standards to deliver positive experiences for the community. Awards won this year include MISAC Excellence in IT Practices Award (awarded for eight consecutive years), Digital Cities award (awarded for 10 consecutive years), and OnCon Top 10 Technology Team Awards (this is a global competition). Congrats, City of Roseville!
Learn More About the City's Technology and Innovation Here »

ON THE HORIZON
Placer Robotics
This new robotics facility is kicking its grand opening preparations into high gear. Once open, this establishment will provide robotics education and host robotics competitions that the public is welcome to watch.
While an exact grand opening date has not yet been set, they have been continuously working on new signage and advertising. Subscribe to Downtown Roseville's newsletter and follow Downtown Roseville on our Facebook, Instagram, and Twitter (X) for updates.
Visit Placer Robotics Website »

Roseville Venture Lab
Roseville Venture Lab is a great gathering place for entrepreneurs and business owners to co-work and grow together. If you or someone you know is looking to learn more about the latest technologies used in business, Roseville Venture Lab frequently holds events and seminars on the topic. See the upcoming events they are hosting!
Learn More about Roseville Venture Lab »
Downtown Roseville E-newsletter sign-up