Sylvia Besana: A Local Hero Then and Now
---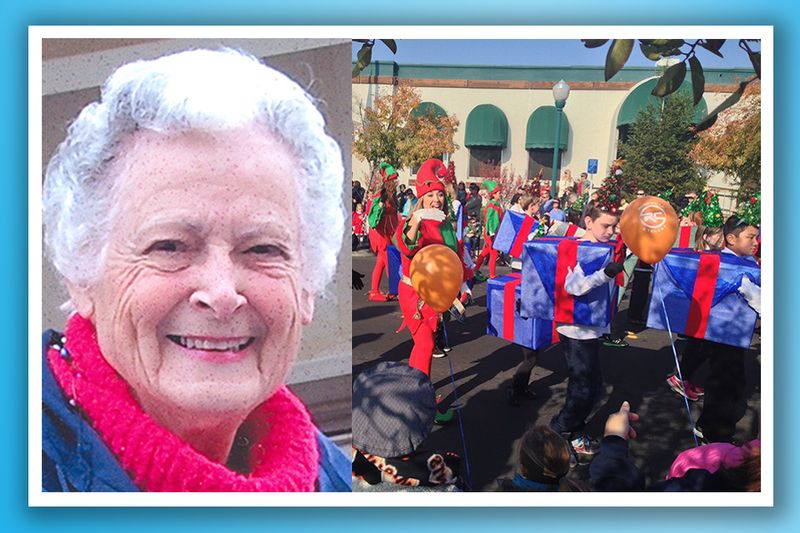 This year the Annual Sylvia Besana Parade takes place on November 18th in Downtown Roseville. The event, now in its 62nd year, is Roseville's longest-running tradition. Many of us may know of it as a holiday parade, but it is so much more. It is also a celebration of the life of Sylvia Besana, a Roseville native who dedicated her life to shaping our community.
Sylvia Marie Besana (née Rastler) was born in Roseville on August 21, 1927, during the infant years of the town itself. You may recall from our previous article that many of Downtown Roseville's buildings still standing today were built in the 1920s. So, Sylvia grew up while watching the small town transform into the City of Roseville as we know it today.
Sylvia was a born leader, had a kind heart and a passion for education, was full of energy and very athletic. She graduated from Roseville High School in 1947 and served as the school's first female class president. After graduation, Roseville High and the people she met there remained special to her.
After her commencement from Placer Junior College (now Sierra College) and Chico State University in 1949, she became a physical education teacher at Placer High School in Auburn. She was later named as the high school's dean of girls. In 1966, she returned to Roseville High School as vice principal, serving for 22 years, until her retirement in 1988.
She stayed in close touch with Roseville High School even after her retirement. In 1990, she organized an all-class picnic with a group of other alumni. The event turned out to be a remarkable success and reconnected many alumni with their former classmates, instructors, and staff members. The success of the picnic lead to the inception of the Roseville High School Alumni Association in 1991.
Sylvia Besana had a deep connection to Roseville High School // Roseville High School and Roseville High School Alumni Association

Aside from her contributions to education, she was also well-known among the community as an avid volunteer. In 1956, she joined Soroptimist, a non-profit global volunteer organization for women. She subsequently became a member of Roseville Chamber of Commerce and served as chairperson for both the annual Roseville Holiday Parade (which was later renamed in her honor) and 4th of July Parade. She also actively supported Roseville Crime Stoppers and served on the boards of Roseville Cemetery and Sutter Roseville Hospital Foundation.
A real-life Wonder Woman to many, she married former Baltimore Orioles player Fred Besana and passed on her athleticism to a son, also named Fred. He had a professional football career with the United States Football League as quarterback for the Oakland Invaders and the National Football League with the Buffalo Bills and New York Giants.
Frederick Cyril "Fred" Besana (April 5, 1931- November 7, 2015 – left) was husband to Sylvia Besana. They are both survived by their son, Fred Besana (born 1954 – right) // Baseball Birthdays and Today in Pro Football History Blog

Sylvia passed away on July 12, 2008, but her legacy lives on in Roseville and the surrounding areas. There was an outpouring of love at her funeral as a great number of the people she touched were in attendance. Many who knew her described her spirit for helping others, which lead to a park dedication in 2005 (Besana Park) and the inception of the annual Sylvia Besana Community Volunteer Award in 2009, which is awarded to the most selfless volunteers in our community.
Sources: Sylvia Besana Obituary (Legacy.com), Roseville High School Alumni Association, and Gold Country Media.
Downtown Roseville enewsletter sign-up